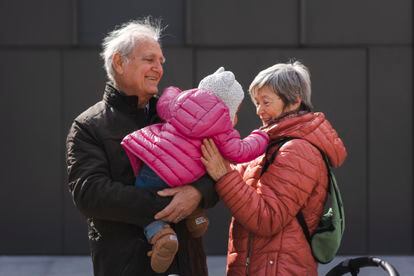 Xavier and Anna Maria, 72, push a stroller that shelters nine-month-old little Meritxell (fictitious name) under a thick fleece sack. The couple is used to strollers. This is the 14th baby they have taken care of. Because the little girl is not her granddaughter, she is a foster child. They are what is known as an emergency foster family, that is to say, they must be available to protect, almost from one day to the next, babies that are taken away from their parents, or that have been abandoned, and become the guardians of the Generalitat. "They call you two days before and your heart is already racing. You start to prepare everything and when you take the baby in your arms you feel as if it were your child, it makes no difference", says Anna.
The newborn found in January in a doorway in the Barcelona neighborhood of Sants has been the latest most notorious case. He now lives hosted by a family similar to this couple from Berga. It is not an unusual situation. In 2022, the Generalitat assumed guardianship of 173 babies under one year of age, according to data from the Department of Social Rights. To welcome and care for them, in Catalonia there is currently a pool of 98 emergency foster families.
In the case of Xavier and Anna Maria, the 14 babies they have cared for have been taken from their mothers in the hospital shortly after birth. The reasons are multiple, each one more overwhelming: from drug problems, mothers living on the street, mental illness, abandonment, resignation, neglect… Meritxell arrived with only five days to live. She is now nine months old.
It was a relative who encouraged them to become a foster family, and when they freed themselves from work commitments, they did not think twice. "It is something very beautiful. I compare it to a zebra crossing where a child is waiting, and you give it your hand and help it cross to the other side, where the other family is waiting for it", exemplifies Anna.
The couple have two children and five grandchildren. "But they live in another municipality and they don't provide work," she affirms. But they are also part of the reception and show the photos of the family celebrations with the baby. "They always ask when the next one is coming," Anna jokes. And it is that each new experience supposes a whole learning. "Once a baby came to us without a name, only with the date of birth. And that's when we realized how important it is to have a name", explains the woman, who also assures that taking on this job has helped them not to judge people. "You know the stories of the families and you see that they have had a very bad time and you learn not to prejudge."
The reception time can be variable. The couple has cared for these little ones for periods ranging from three to 20 months. Depending on the case, the minor can return to their biological family or they are adopted. Thus, depending on the situation, it may be that the baby, as in the case of Meritxell, maintains contact with her parents and Anna and Xavier are in charge of taking her periodically to visits with the parents.
What affects the most is what happens closer. To not miss anything, subscribe.
subscribe
During the reception, the family fills a box with memories. Meritxell's will feature the first set of clothes she wore, her favorite stuffed animals and a photo album of hers. They will be the memories that the little girl takes with her when she has to leave the arms of Anna and Xavier. And it is that this solidarity action also has a bitter face: the moment of goodbye. "At the beginning it's hard because you have to let them go, but at the same time you're also happy because you know he's leaving with a permanent family." But Anna admits that she lives an emotional merry-go-round. "At first you suffer a lot, but you end up normalizing it if you want to get ahead."
The marriage has a calendar where all the foster children's birthdays are marked. They are all congratulated rigorously. It is a way to maintain the relationship with them. They also try to see them once a year. The couple, who exudes enthusiasm and tenderness, qualify their praise for the task they carry out. "We don't do charity work, they do it, because they make you want to live and they make you forget about yourself and only think about them. And when they smile at you, all the evils happen to you.
You can follow EL PAÍS Catalunya at Facebook and Twitteror sign up here to receive our weekly newsletter