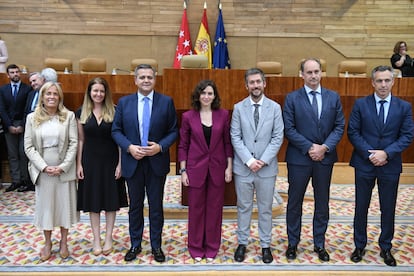 The still acting president of the Community of Madrid, Isabel Díaz Ayuso, revealed the names of what will be her nine new directors, and advanced that Rocío Albert will replace Javier Fernández-Lasquetty in the Ministry of Economy. She did so in her last intervention in the second session of the investiture plenary session that has once again made her president of the Community of Madrid, this time by an absolute majority.
The new Minister of Economy, Finance and Employment led in the last legislature the Vice-Ministry of Educational Policy of the Community of Madrid within the Ministry of Education, in which she already held the position of General Director of Teaching Quality Improvement and of Universities and Research. In the economic area, Albert has also held positions of responsibility such as the Vice Ministry of Innovation, Industry, Commerce and Consumption.
In the same intervention, Ayuso has announced the new structure and the names of its Executive, which will continue to have nine ministries but fewer deputy ministries and general directorates to be "the most austere Government in Spain."
The new Minister of the Presidency, Justice and Local Administration will be Miguel Ángel García, who was Vice Minister of Finance and Employment (2015-2019), as well as Vice Minister of the Presidency (2019-2023). He was also director general of the Coordination Unit of the Community of Madrid (2008-2012) and held managerial functions in the Government of Spain as director general of Self-Employment, Social Economy and Corporate Social Responsibility (2012 -2015).
At the head of the Ministry of Housing, Transport and Infrastructures will be Jorge Rodrigo, deputy since 2019 in the Assembly, where he has been first vice president and secretary of the Board. He has also been part of the Government of the Community of Madrid in previous legislatures as general director of Relations with the Assembly and coordinator of the cabinet of the regional Presidency.
The Ministry of Culture, Tourism and Sports will be in the hands of Mariano de Paco, who has been manager of the Academy of Performing Arts of Spain and, currently, is director of Management of the Teatros del Canal.
In addition, the Ministry of Education and Universities will be in charge of Emilio Viciana; Carlos Novillo will be the Minister for the Environment, Territorial Planning and the Interior; as counselor for Family, Youth and Social Affairs will be named Ana Dávila; Fátima Matute will be the new Minister of Health, and, finally, the Ministry specialized in Digitalization announced by Ayuso last Tuesday will be led by Miguel López-Valverde Argüeso.
Follow all the information of Five days in Facebook, Twitter and Linkedinor in our newsletter Five Day Agenda