If there is no way to prevent minors from using social media, it may be better to prepare them to at least do so ethically and responsibly. With this argument, the young space of the City of Alboraya (Valencia) organizes this week a workshop on creating content on social networks for boys and girls between the ages of 11 and 14, despite the fact that the use of these technologies is prohibited until the age of 14, and public warnings what did you do about it paul duchement, computer engineer and judicial expert expert in crimes perpetrated by and against minors through the Internet. The problem, according to Duchement, does not simply lie in the fact that minors are taught to create written and audiovisual content for networks (as specified in the announcement poster), but rather that this indirectly validates the presence of minors in these networks. However, those responsible for the consistory defended the activity through Twitter after their notices: "The use of social networks is already normalized at these ages, even if conditions do not allow it. We can choose to prohibit, with the result that they use them secretly, or teach them to make responsible use.
In fact, this is not the only public initiative aimed at minors that involves the use of social networks. The City Council of Villafranca de los Barros (Badajoz) held a TikTok workshop for boys and girls aged 8 to 16 in October 2021, while those of Petrer (Alicante) and Plasencia (Cáceres) convened two choreography workshops this year for this same network that included minors under 14.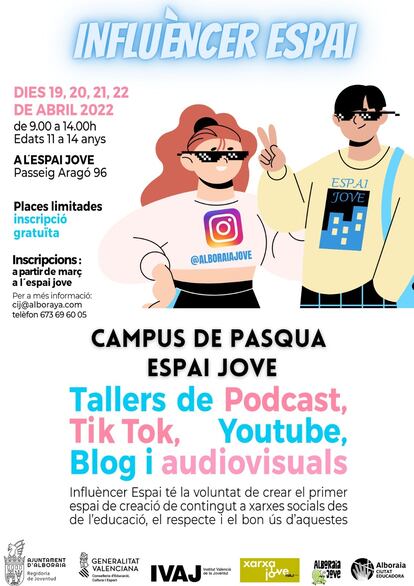 "If a minor under 14 years of age does not consider himself prepared in Spain to manage his data, how are you going to give him a weapon of mass dissemination of data? Minors do not have the maturity or perception of risk that an adult has. They do not have the criteria or the formed character, at an age ―12, 13 years old― in which they are still very sensitive to what they will say and to external approval", Duchement wonders. A risk that Cristina Gutiérrez, Incibe's cybersecurity technician for minors, also has an impact on: "Inappropriate privacy management can expose you to compromising situations for your emotional, social or professional development, and even lead to cases of cyberbullying. They can come into contact with malicious people and, of course, expose themselves to viruses, fraud, hoaxes and false news.
One of the greatest dangers is undoubtedly the grooming, in which an adult pretends to be another minor to gain his or her trust and end up obtaining content of a sexual nature from him or her that can even end with an encounter outside the virtual world. Another possibility is to find people who pose as modeling agencies or advertising articles on the Internet, always with the same objective: to obtain private material that serves as the basis for progressive blackmail (the sextortion) that will get worse over time.
Public management of privacy
For those responsible for the call, the activity does not contravene any rule: "We are aware that what we do is educate and prevent, because it is clear that they are going to have social networks and it is better to prevent when they are there," explains Lluís Albert Granell, sociocultural promoter of Espai Jove, in telephone conversation. Although the poster for the workshop includes mentions of TikTok, Instagram and YouTube, Granell admits that it was done more "to get the attention of the kids, using TikTok as a claim, than to reflect the programming itself. They are not going to use accounts, or take photos, but we are going to teach them from an ethical code in which we, as teachers of the youth, believe". The 15 places offered for the workshop have been covered with which minors "will learn to create quality content and what they need to make good recordings; they will participate in a dubbing workshop and other blogs and will discover how to develop a podcast", explains Sandra Talaya, youth technician in Alboraya.
Regardless of the space that Administrations in general and town halls in particular must occupy, the ones who must undoubtedly begin to make decisions sooner and later are the parents. How should they manage their children's access to social networks? "In an increasingly interconnected and globalized world, parents must understand that the dynamics in social networks, to a greater or lesser extent, are essential for the development of their children as individuals," argues Gutiérrez, who recommends educating from the first contacts with technologies, beginning by working on critical judgment and providing them with content adjusted to their age and maturity. "The main problem is the ignorance, on the part of many parents, of what their children do, follow or see on the networks, and the time they spend on them," she says. Internet Segura for Kids, an Incibe portal, makes resources available to parents such as the Social Media Safety Guide for Families, as well as various parental control tools, which allow them to control the content they see, limit screen time or find out which pages or applications they have browsed. And Duchement ends with a notice: "When you let the minor have privacy with an account on a social network, you are getting privacy not only for him; also everyone who interacts with him."
This is how you get a good use of the networks
Making proper use of social networks depends, to a large extent, on the guidance and accompaniment work that parents do with their children. For this reason, Incibe makes a series of recommendations for transferring children and adolescents:
Make minors aware of the importance of balancing the virtues and risks of showing themselves publicly.
Help them to see the relationship between the overexposure of personal information and the risks they have (identity theft, fraud, harassment…).
Know how the minor acts and how he is represented in the networks. If possible, get him to add you as a friend, respecting his space.
Make them aware of the importance of thinking before posting, and keeping in mind the potential audience for their messages.
Make him see the risks of sharing content of a sexual nature in relationships. It is not difficult for them to end up being public.
Make sure you are aware of the configuration options and mechanisms to manage your security in web applications and services.
Instill responsible behavior in them, such as not posting or forwarding other people's information without their permission.
You can follow EL PAÍS EDUCATION in Facebook and Twitteror sign up here to receive our weekly newsletter.
Subscribe to continue reading
Read without limits