She always wanted to be a cook. Since she was little. Elena Arzak (San Sebastián, 53 years old) liked the family atmosphere that was breathed in the Arzak restaurant, where she went for two hours every day with her sister Marta (art historian and assistant director of education and interpretation at the Guggenheim Museum Bilbao), when classes ended. They cleaned squid, made chocolate balls and soaked up the family clan spirit that this cook always displays. There were her father, Juan Mari Arzak, the mother of the mythical cook, Paquita Arratibel, Aunt Serafina, and her mother, Maite Espina, "half the soul of the restaurant," says the cook. She studied hospitality in Switzerland and worked in renowned kitchens in Europe —Maison Troisgros, Pierre Gagnaire, Carré des Feuillants and Le Vivarois in France; Louis XV, in Monte Carlo; Le Gavroche, in London; Antica Osteria del Ponte, in Italy; and elBulli in Spain. In the nineties she formally joined the kitchen. Since then, she has formed a tandem with her 80-year-old father, who, despite having given the leading role in the kitchen to her daughter, every day goes to the restaurant to spoon.
Ask. Being the heiress of Juan Mari Arzak should not be easy.
Answer. I did not consider that. He would arrive at the restaurant and there was family in the air, as well as a lot of work. He would put me in a corner and think that I would like to make those types of dishes, which were not so avant-garde. The challenge was that. And I saw that my father and his friends (Pedro Subijana, Karlos Arguiñano, Tatus Fombellida, Luis Irizar, José Juan Castillo, Ramón Roteta, among others) were creating the new Basque cuisine. I saw them happy and proud, and I knew that this was going to be something important.
Q. At that time, cooks were not as highly regarded as they are now.
R. Now the profession is more recognized, but I feel like a cook. Nothing more, although I have had to learn other things because of everything that is required of us at the media and communication level, such as giving conferences, or topics related to sustainability.
Q. Now they stop you on the street and ask you for photos.
R. I am lucky to have the physique of a lady from San Sebastián, of a normal woman, and there are times when they do not recognize me. I also say that if you are stopped on the street it is mandatory to respond. You have to respect the illusion of the people, even if you don't have time. I am one of those who go to other restaurants and take pictures with the cook.
Q. Would you like to have any in particular?
R. It's been a long time since I took a photo with Carme Ruscalleda and I'd like to update it. She is a woman I admire.
Q. In the photo of chefs with three Michelin stars in Spain, only one woman appears: you.
R. But that is going to increase. There are more and more women who stand out. It is a social and time issue. When my father studied at the School of Hospitality in Madrid, his only partner was Tatus Fombellida, who is now retired. When I went to study in Lucerne in Switzerland there were already more women. And at the Basque Culinary Center things are even. Steps are being taken in terms of reduced hours and work-life balance for men and women. There is still a long way to go, but it is a matter of time. Women are increasingly acquiring greater leadership in the kitchen because work circumstances are improving.
Q. Have you had it easier because you are the daughter of who you are?
R. On one hand, yes. It has been wonderful working with my father. He has taught me and transmitted values, although I have more restlessness and insistence than him. Our relationship is very fun, we argue every day a little. I have suffered being judged for being my father's daughter. I have experienced that pejorative feeling, but my parents have always told me that if it was constant and had results, people would forget who they were their daughter. I'm a cook because I like it, not because I'm Arzak's daughter. It is also true that I have done internships in certain establishments because of my last name like that.
Q. And how was it accepted in your own kitchen?
R. I like challenges and demands. I spent seven years abroad and the bosses there were not my father. I already had experience of what it was like to work when I arrived at the restaurant. The Arzak staff helped me a lot, they accepted my changes. The older ones, who have already retired, pushed me a lot and transmitted respect to me to the new ones. Now I am my own boss and I live everything with great intensity.
Q. Does your father still go to the restaurant?
R. He comes every day, although with restricted hours. It is still terribly interesting to listen to him and learn by his side. I can explain to him something about Sichuan pepper, about a 3D mold or a fermented one, that he always gives his opinion. The taste of the palate is ageless and he has it highly developed. My father has brought respect to the profession and has defended the territory.
Q. Has the change in the Arzak kitchens been calm?
R. It has been unhurried. I joined a system that worked very well. Little by little I was making changes. It has been a long and smooth transition. I'm not very transgressive because I'm more of using the techniques from before and updating them.
Q. Has he given you any advice?
R. Once I made some fried beans and my father told me to write down everything I made. I didn't, and then he didn't remember the recipe. I learned the lesson.
Q. You have inherited a restaurant with a legacy that you must uphold, are you worried about losing a star?
R. What matters to me are the clients, and it strikes me that they come from all over the world to eat at our house. About the stars, I remember that when my father received the third one he called me in Switzerland and he told me that he didn't know how long he was going to have them. During this time, we have contributed to maintaining them with the efforts of the entire restaurant. I would be sorry to lose them, but stars are not given away. They require a fair examination and quality and staging must be demonstrated. I'd be sorry, but I'm prepared to lose Michelin stars. We never thought we would last this long. It is something we live with. I see it as a challenge, as an exam.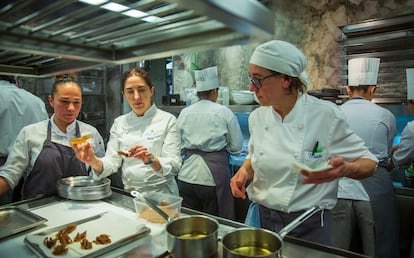 Q. Are your clients repeat customers?
R. We have lifelong clients. I find it funny when foreign customers repeat. That has a lot of merit and means that they like it. After the pandemic we were reborn again. Things have changed, we are all more human, we think more in groups, we have a sense of community. Now customers come delivered. My father experienced it in a very sad way because he couldn't conceive of not being able to come to the restaurant.
Q. Has it changed a lot for you?
R. I'm focused on the restaurant. It's my site. I have reduced the number of working hours because the staff has asked me to. They want me to last too long, even though I have hours to go. I am learning to rest and be with the family.
Q. Do you get the accounts?
R. The restaurant is profitable because the premises are ours, but it is true that avant-garde restaurants are not so much because there is a lot of spending on product, rent and personnel. In a pandemic I became an expert in economics. I look at the accounts and consult with my manager every day.