Reconciling family and work continues to be a pending issue in Spain. This is revealed by a study prepared by Edenred with data collected in the months of February and March 2023 and whose final publication will be this coming May. According to reports, their gross results indicate that, currently, 68% of fathers and mothers have difficulties in combining their professional life with the care and education of their children. The analysis sample was made up of 1,859 parents and the majority of those surveyed believe that companies do not provide sufficient facilities to reverse this situation. And it is something that still affects them more today. The same report concludes that seven out of 10 women encounter impediments to reconcile.
"What most of us in Spain do is not reconcile, it is survival," Laura Baena, founder of the Club de Malasmadres, explains emphatically to EL PAÍS. "And conciliating in Spain has a very high cost for us, not only personal and emotional, but also economic. One in two lose salary when maternity arrives. And the high cost it has for mental health has normalized. We have normalized skidding through life, prioritizing only work and not having time to take care of ourselves or take care of ourselves", Baena says. For this bad mother It is urgent to review the labor model, prioritize care and socially recognize reproductive work —unpaid employment, characterized by the execution of tasks related to maintaining the well-being and care of the family— that women do invisibly. "We would have to fill the streets on March 23 (National Day of Conciliation and Co-responsibility) shouting: 'This is not conciliation, this is giving up. And until there is a political and social commitment we will not advance.' How can we not feel stress if 85% of us have less than an hour a day for ourselves? We are not allowed to care with dignity, but neither are we allowed to live with dignity when we are mothers, "she points out.
As reported by Baena, 73% of women state that they feel exhausted practically daily by the mental load of domestic and family tasks: "Co-responsibility is a pending issue in Spanish homes and also in companies. Because it is the responsibility of the whole society". To this she adds that the lack of co-responsibility of men, companies and institutions directly affects the mental health of mothers: "A co-responsible system proposes formal care networks for all families; companies are committed to flexibility and understand that without reconciliation plans we will not build a sustainable society".
How to improve the situation? The fathers and mothers are clear. Among the conciliation measures that they propose, according to the Edenred study, they are committed to the intensive working day, receiving more aid for upbringing, such as childcare checks, payment for books or dining room, more vacations or more flexible hours. And what they miss the most is quality time. Three out of four respondents —76%— say they do not have all the time they would like to spend with their children during the week. "And when women wake up and realize that they have not chosen a reduction in working hours or a leave of absence freely, and they are aware that they have resigned due to lack of conciliation. There is something key: with labor flexibility they would not have resigned", emphasizes Baena.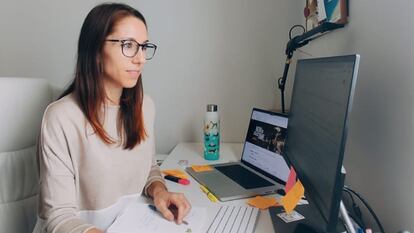 Esperanza Fernández did not resign after her maternity. This 39-year-old Sevillian engineer works remotely and with flexible hours for Eventbrite, the global technology platform for event management —this company is a pioneer in the sector because it has a completely flexible model since 2021 and is a winner of the Great Award Place to Work 2022 (best place to work) in the US, among other awards—. After a few years of comings and goings between Seville, the Canary Islands and the United States, this mother of two daughters, aged two and five, managed to settle in her hometown thanks to the pandemic: "Without a doubt, teleworking and flexible hours are great options for today's mothers, since they allow a better balance between professional and family life". Teleworking allows Fernández to adapt the day to day to unforeseen events that may arise and reduces the stress that these situations generate when trying to make everything fit. In general, this work situation helps you to better manage your time, increasing productivity and reducing stress. Fernández assures that her life has improved: "I can play sports before my little ones wake up, it's time that I can dedicate to myself and it certainly helps me cope with daily stress."
For her, teleworking also means being closer to her little ones: "I have worked in person for several years and spent many hours separated from my daughters, they had to go to school very early and I picked them up in the afternoon. Now, I don't have to leave them so soon, we walk (before we always went by car because I left them on the way to work) and at noon they come to eat at home. Then they have their extracurricular activities and I continue working for a while". A situation, she says, that also has many benefits for them. "They can sleep a little more, they walk to school and they know I'm home if they need anything." As she relates, since she teleworks, her daughters have more extracurricular options to choose what they like the most: "Before it was a little what the center where they studied offered, now they can go to other things in the area where they we live. We have all gained in quality of life".
For Baena, well understood teleworking has to be accompanied by effective reconciliation policies and respond to co-responsible values, as there are already in certain companies: "There are indicators to verify that betting on this type of policy improves effectiveness, against what those who resist moving forward believe. We have to leave fear behind: 'Mira is teleworking and has installed a washing machine or has given Dalsy to her daughter…'. What is the problem?". For this bad mother it is necessary to begin to give value to care and to understand that a flexible and liquid model allows mothers not to give up and is committed to a more humane society.
"The system is perverse and refuses to move forward. So they tell us that teleworking is a hoax, which I don't believe. It must be regulated correctly, as we proposed, with a gender perspective and flexibility", Baena resumes. "If not, what's the point? And, above all, training is needed for businessmen, middle managers and managers who do not believe in it and who continue to control and mistrust their teams ", she adds. For the founder of the Malasmadres Club, face-to-face clings to a model whose structures will end up falling under their own weight: "And it will happen due to the pressure of the associations, the positive results of those companies that are committed to change and the models Of future. Because we know, young talent does not understand eternal days and tight schedules. Continuing with the culture of warming the chair is going against the future and families".
You can follow Mamas & Papas on Facebook, Twitter or sign up here to receive our biweekly newsletter.