At eight years old, Jennette McCurdy (Los Angeles, 30 years old) accepted her first role as an actress in the series MADtv (2000). She did not want to dedicate herself to the world of acting, but her mother, Debra McCurdy, already had a film career prepared for her to her taste and measure. After that role came more than a decade in which the young actress had to face the constant psychological abuse to which she was subjected by her mother. Until 2013, when the woman died of cancer. From that moment, everything changed. Even her. In August 2022, Jennette McCurdy published her biography, I'm glad my mother died (published in Spanish in February by the editorial Tendencias). In those pages, she tells everything that until now she had not dared to say, although she had already given some brushstrokes in a play: from episodes of anorexia and anxiety to abuse by "The Creator", as she refers to someone of the industry whom he does not mention by name.
The McCurdys lived with just enough, with barely enough money to make ends meet and with six mouths to feed (they were four brothers). Jennette adored her mother: she always did what she asked to keep her happy. "I think you should act, you would be a great actress. Blonde. Blue-eyed. You are how they like it in that city (Los Angeles) ", she told her daughter when she was only six years old, as she now includes in her book. There she began her murky and difficult path through television sets and endless auditions. First they were small roles as a secondary extra, but little by little she was acquiring more tables in the casting. She recounts how she came to normalize any of her mother's behaviors because she fully trusted her, to the point of drinking energy drinks at just eight years old: "My mouth is dry, as always before the auditions, and I want to urinate, although I already I've done it four times. I think it's the sugar-free Red Bulls that Mom makes me drink before comedy auditions because she says otherwise I won't have enough energy."
In addition to manipulating her own daughter over the years to always do her bidding, McCurdy believes her mother was also using cancer, a disease she had overcome, for personal gain. "Mom loves to explain the history of her cancer (chemo, radiation, bone marrow transplant, mastectomy, breast implant, that it was stage four, that she was only 35) to any parishioner (they were Mormons). , neighbor or supermarket customer who pays attention to you. Although the facts are very sad, I can see that the story itself gives you a deep sense of pride. Motivational", says the interpreter.
An innocent question would change her life forever at the age of 11: "What can I do so that I don't get boobs?" Her mother did not hesitate for a second in the answer: "If you really want to stay small, there is something secret you can do … It's called calorie restriction." There she began her obsession with losing weight, calculating calories and taking drugs to retard growth. A behavior that even today, at the age of 30, continues to dominate her day-to-day. "I realize that most foods add a bit of personal weight to me. I weigh myself five times a day. I want to make sure that I am aware of each and every change in my body so that I can make the appropriate adjustments and be ready for my weekly weigh-in session with mom, "she says in the book. In six months, McCurdy dropped three sizes, a fact that worried the pediatrician but was downplayed by her mother.
His signing for icarly, a Nickelodeon youth series that began in 2007 and was about the success of an internet program, changed the course of her life by becoming known worldwide. "I jump into mom's arms. I am elated. Now everything will be different. Everything is going to get better. Mom will finally be happy. Her dream has come true ", she recalls the moment when they announced that she was going to be part of the production. She was involved in it for five years, during which time she was unhappy and which caused her constant episodes of anxiety and anguish: "The fame that I have is causing me a level of stress that I did not think it was possible to have. I know everyone wants her and everyone tells me how lucky I am to have her, but I hate her. I constantly feel on edge every time I leave the house to go anywhere." But she was still in the project, just to please her mother and fulfill her dream.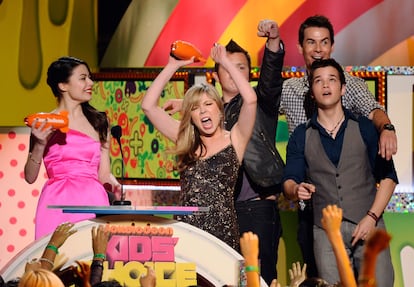 The actress, in addition, in those years also suffered the abuse of "The creator", of whom he does not give the name, but makes it clear that he is a director of the series. "I have seen him bring grown men and women to tears with his insults and demeaning words. He treats people as idiots, clowns, stupid, foolish, careless, retarded, and lacking in character. He knows how to make someone feel useless", he describes in his biography, where he also recounts how this man forced him to drink alcohol at the age of 18 —in the US, consumption is legal from the age of 21— despite repeatedly refusing. occasions. With that same "creator" he would later work on Sam&Cat, series in which he shared the limelight with Ariana Grande and which would only last a year.
McCurdy was growing up, but her mother refused to see him and continued to treat her like a child, not letting her associate with her co-star, Miranda Cosgrove, let alone boys. She says that her fame didn't change her, but it did change her relationship with her mother. "A gap has opened between us. She wanted this and I wanted her to have it. She wanted her to be happy. But now that I have it I realize that she is happy and I am not. Her happiness is at the expense of mine.
This gap grew bigger when the actress hid from her mother her encounters with a boy, whom she calls Joe in the book, and with whom she went on vacation. What was going to be a secret getaway ended up bringing out the worst version of Debra via email after some paparazi images of the couple were published. "I am very disappointed. You used to be my perfect little angel, but now you are nothing more than a little slut, a slut, used, "her mother told her then in an email that she replies word for word in the book. The disappointment vanishes a few lines later: "PS: send us money to buy a new fridge. Ours broke down." Not content with the insults that she uttered to her daughter in a first message, she decides to resume communication with another even harsher: "You caused the reappearance of my cancer. I hope it makes you happy to know. You have to live with this."
Her mother died in 2013. The last words that McCurdy said to her in life are evidence of the psychological moment she was going through: "Mommy, now I am very thin. I have finally gone down to 40 kg". All this despite acknowledging in her book that she felt "miserable" and "exhausted" from abusing her body every day. Months later, she learned some of the most painful news in her life. Her father was not her biological father, as he revealed to her. His mother hid who he really was from him for 20 years, but it didn't take long for her to find the right person thanks to the indications of the one who acted as a father figure all his life: "Although I couldn't get much information from Mark-Papa, I was able to get the full name and occupation of my biological father, which was enough for a quick online search to lead me to his official website. She had a list of the soundtracks of countless movies in which she had participated, such as Star Wars, Jurassic Park and lost". Also a concert schedule, and he went to the last one, in Los Angeles, to meet him. He names his true father Andrew, and his first meeting may be one of the few happy stories he recounts in the book.
after the flashes, the awards and the series there was an already unhappy woman, working in something that she did not like and with a life that was falling apart at times. She was forced to be a singer, to silence the degrading treatment she experienced during her stage in the youth franchise, to travel on endless tours… But now she has already taken the reins of her life. She has decided to get away from the spotlight to be behind them as a screenwriter and writer. In fact, the actors icarly They resumed the production of the series —now on broadcast—, but without it at the actress's own desire. "Miranda tells me that she believes that the return could be an opportunity for all the cast members: 'Let's go back on the market,'" she says in her biography.
Despite the fact that she has decided to bare her soul in the book, Jennette McCurdy knows the consequences of the abuse she experienced for two decades by people who, in principle, were there to help her: "I will never be able to recover those years. My mother started me on an eating disorder when she was just 11 years old, a disorder that robbed me of my joy and any glimmer of free spirit I had left. Her life told of her in book form is already an unprecedented success —it has been at the top of the best-seller books for 40 weeks. The New York Times—. There is nothing left of that girl who, innocently, thought more about the happiness of others than her own.