Despite the fact that organizing a trip with children can be somewhat overwhelming when you do not have experience, then you realize that everything is put and that it is not that complicated. As in almost everything in life, it is enough to organize a little so that things go as well as possible, also packing the children's suitcase well in advance. If you also read our tips for traveling with children by car, train and plane, surely the trip will be more bearable.
The first thing to be clear about when preparing your luggage is what space is available, the duration of the trip and if you are going to a cold or hot area. The suitcase changes based on the answers to all these questions. Another important thing, and one that takes away a lot of stress when preparing the children's suitcase, is to keep in mind that the destination you are traveling to is full of children who wear clothes, eat, need diapers and get sick, just like everyone else. others, so there is no need to be delirious when it comes to leaving something behind, because 95% of things can be found elsewhere and clothes can be washed in laundries. Of course, if the little ones have a very special need with whatever (food, medicines, creams…), it does not hurt to store the extra product in the suitcase, just in case there is difficulty finding it there.
Organization is a plus: there are objects and accessories that will make your life easier. One of our favorites are the suitcase organizers, which are small compartments that adapt to the available space and that allow you to classify what goes into each one, without having to mix everyone's clothes and keeping everything organized.
The toiletry bag and the first aid kit are two of the most important items when traveling with children, since they use their own personal hygiene and first aid products in case they get sick. In the case of the toiletry bag, it must be borne in mind that, today, if you travel by plane you will not be able to take with you liquids that exceed 100 milliliters (these must necessarily go in checked suitcase). So if you want to avoid that step, there are several options: wear a mini size, buy the cream/gel/whatever at the destination if it is sold regularly; if it's something very specific, important or difficult to achieve, it's a good idea to buy small refillable canisters suitable for boarding the plane. In the case of the first-aid kit, we always carry disinfectant in case the children fall and injure themselves, band-aids, a thermometer and something for fever just in case, but the most essential element of the first-aid kit is not tangible: it is travel insurance. in case things get complicated. Ours have caught a virus that has taken them to the hospital in the United States and the little one fell and opened an eyebrow in Thailand…
Bulletin
The best recommendations for travel, every week in your inbox
RECEIVE THEM
What to pack in your child's carry-on bag
Normally, to travel we take a large suitcase with everyone's clothes, which we only open once we arrive at the destination. And, on the other hand, a small suitcase closer at hand and to which we can have easy access during the trip. In it we always put at least one set of spare clothes, some healthy food for them to snack on if hunger strikes, and some small toy from among their favourites. For example, we usually travel with card games like Virus or Banderis and also with a travel-size game of goose, which they love.
Another thing that is never missing in the children's carry-on suitcase is a notebook with colored pencils and a pen. With it they draw and color what they want and have a lot of fun.
The issue of the screens is something that depends on the parents. We do not abuse them, but we do use them depending on the duration of the journey, especially the longest ones. For those occasions we also take your usual headphones.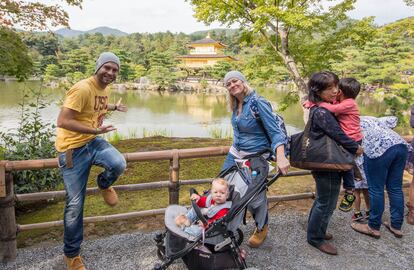 How to visit the destination with children: logistics
Depending on the age of the boy or girl and to make life easier, we recommend that you take the most suitable transport option for them in your suitcase. Stroller, carrying backpack… it is something that depends on your age and the option chosen. If it serves as an example, in our case and even when we had already stopped using a cart to walk with them through our city, we have taken it on a trip. Because? Well, because we have two children and when one doesn't get tired of walking, the other does. In this way, they can take turns getting on the stroller (instead of on our back) when they get tired and if not, the car always carries the backpacks from the trip, bags with some purchase, etc. It is a very comfortable option for trips long, in which good walks are expected and when they are not yet used to doing them.
Subscribe here to newsletter of The Traveler and find inspiration for your next trips in our accounts Facebook, Twitter and instagram.