As a child, Laura Ferrero (Barcelona, ​​38 years old) could not watch the VHS of Bambi either in search of the enchanted valley. She couldn't stand any movie in which her mother died. So when she heard the story of the space shuttle accident challenger that exploded 73 seconds after launch, killing all crew members in 1986, including high school teacher Christa McAuliffe, his mind focused on a single consequence. "It was seeing those images and I could only think that there were two children watching her mother dying live," she explains, sitting in the bar of a hotel in Barcelona yesterday, Wednesday, on the first day of promoting The astronauts, his latest novel that goes on sale today in Alfaguara. "The hardest I've ever written and the one I would never do again," she anticipates.
This author's childhood terror of dead mothers made sense. Her parents divorced in the late eighties, when she was two years old, and they both started new families. "I was obsessed with the idea that my mother could die. At that time, my only certainty was that I had one, "she says. Ferrero grew up being able to refer to her mother as "my mother" before everyone and without fear of being wrong. With her father (her biological) she did not have it so easy. In maternal circles, if she mentioned it, she had to use her first name or as "that". And although she called her mother's new partner "dad" inside the house where they lived, she has never called her father's new wife "mom." Her mother was the only one who could hold that title. Naming her could not be misleading or irritating others for referring to her that way: she was her pillar, the one that could not be exchanged.
Behind the absent father
Based on an autobiographical event that happened to him several Christmases ago, The astronauts part of the discovery of a never-before-seen photo from a family album in which Ferrero appeared, as a child, with her parents when they were still together. "When I saw her, I thought: 'I can't believe that my whole life has gone by without realizing that I also had a family.' I always assumed that I had two, but there, I understood that before there was that first one that I never heard of, "she clarifies.
The need to know, to ask those involved in this text, is what has led the author to approach the idea of ​​the family. "I wrote it to understand who my absent father had been and I ended up understanding who my mother was," explains the storyteller and author of other titles such as empty swimming pools (2015) or What are you going to do the rest of your life? (2017). There is a lot about his life here, but also a lot of fiction for pure narrative interest or fragments of astronaut stories, "men who traveled to the most remote and unexplored places and who, when they returned, ended up very alone. I really liked that idea of ​​solitude to tell the story of my parents".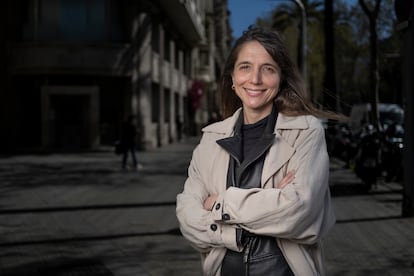 Those parallels have helped him to fill in all those gaps that he had in front of his strangeness derived from the absence and the "Where is your father?", the recurring question during almost all of his childhood and adolescence. "Many times we have given the absent men a part of the blame that they often have, but it has also served to place all the consequences on them. Many of my disorders as a child, which were not traumas, were directly attributed to the fact that he was no longer there, "she clarifies.
The novel, which has taken several years to write and which began before people don't exist (2021), he came to stop her three times. The last one was due to the illness of her mother, who was diagnosed with Hodgkin's lymphoma. "I could not write. There I understood that illness is the end of metaphors. All this that we do, intellectualizing life in novels, you do when life is going a little well for you, "she reflects. She acknowledges that this process has made her get closer to that elusive mother that she did not want to talk to her about her life. I hate people who say that pain is useful. Cancer is a useless thing. Through the disease I got to know her better, but because in extreme situations you see another face of other people, "she clarifies. Her mother, by the way, has read the novel and she "liked it a lot."
The smartest, the most beautiful
The astronauts It is also an interesting chronicle of the emotional ravages of the first children of divorce in Spain. From that law that was approved on June 22, 1981 and by which the Minister of Justice at that time, Francisco Fernández Ordóñez (UCD), defended that "we cannot prevent marriages from breaking up, but we can reduce suffering of broken marriages. Ferrero was a direct witness of the moralistic oppression that crossing that border meant for his family: "At school many nuns told me 'I'm going to pray for your parents because now they live in sin.' That need to follow the norm was very overwhelming, "he recalls.
The offspring of those other pioneers who also explored new affective galaxies developed the ability to recognize each other instantly. "At school we all knew each other. We were a select club of sad, misplaced children who had more than average birthday gifts, "he writes in the novel. The author claims that she still has the radar on. "If I spend enough time with a person, I can tell." She detects it, she says, "because the children of divorcees from the 80s have spent our lives taking out the infinite achievements card to feel loved. You spend your childhood thinking: how can I make my parents love me more? It is not that you understand that your father does not have the emotional tools to be there with you, you prefer to think that, in a hyper-perfectionist family, if you are the smartest, the most beautiful, the thinnest, you will win the love and approval that is not he has given you", he reflects.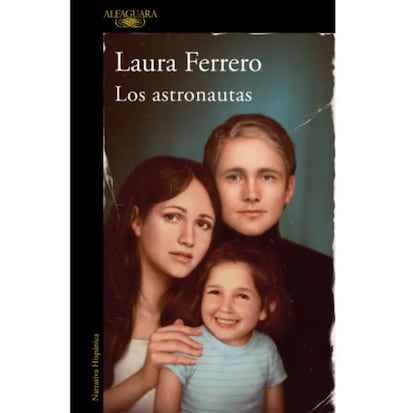 reimagine family
Ferrero claims to renounce the idea of ​​a nuclear family that we reproduce as a monolithic refuge. "We try to fit our idea of ​​family, and also that of a couple, into an inherited mold. That causes a lot of frustration. I am not against ending the family as we know it, I am in favor of reimagining it in multiple ways, "he reflects. In his novel he charges against the slab of romantic love inherited from the movies and soap operas he watched in his childhood. "Hollywood has done as much damage as Disney. We have a problem with that constant desire to give meaning to our lives, to fit a narrative that we want to imitate. We prefer utility to truth. I have known girls who have rejected trying it with someone because they did not feel "those butterflies that Jennifer Aniston talked about in her movies, it is terrible", she says. That is why he claims to accommodate himself in uncertainty. "Things sometimes don't make sense, and nothing happens."
From Sara Mesa to Aixa de la Cruz, passing through Eider Rodriguez, Ferrero feels very in tune with those authors of her generation who, like her, are problematizing the notion of family in their latest novels. "I really liked reading Eider Rodriguez defending that feminism has given us a push to write about these issues that were previously considered minor. I remember when I wrote empty swimming pools a journalist told me that I wrote very well, but that it was a pity that I focused on those topics because I would not get anywhere. When we write about this, we do it from the same universality as any other author, "he claims.
After working hand in hand for four years with Isabel Coixet as a screenwriter (her latest project was to adapt One Love de Sara Mesa) and while working as a regular collaborator of Window In Cadena Ser, or EL PAÍS, the writer is committed to talking "much more, all the time", about money. "We do not treat the precariousness of the writers, it seems that if we mention it, we take away its glamor. I don't know how the rest do it to be able to write, but if you're not a teacher and you have a landline, it's complicated. It makes me very funny when people tell me: 'You're doing well, I see and hear you everywhere!'. The funny thing is that if I am there, it is precisely because I did not arrive to be able to write my books".
All the culture that goes with you awaits you here.
subscribe
babelia
The literary novelties analyzed by the best critics in our weekly bulletin
RECEIVE IT
Subscribe to continue reading
Read without limits