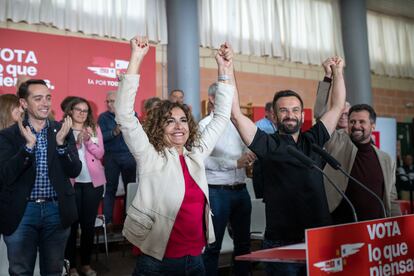 The Minister of Finance and 'number two' of the PSOE, María Jesús Montero, has appealed to the mobilization of the socialist electorate in these regional and municipal elections, warning that if citizens stay at home, these elections will be decided by "the energy, the banks and the big capitals".
This was stated by the deputy general secretary of the socialists from an act this Friday in Zamora at the start of the campaign together with the general secretary of the PSOE in Castilla y León, Luis Tudanca, the socialist candidate for mayor of Zamora, David Gago, and the Deputy Antidio Fagundez.
From here, Montero has accused Feijóo's PP of making "ominous announcements" with the intention, as he has said, for people to "do badly": "They wanted that in this country, in times of economic difficulty, there would be a feeling of discomfort among the citizens because they are convinced that only in this way could they reach La Moncloa".
In this context, he has once again stressed that the 'popular' think that "power belongs to them by birth", accusing them of believing that "when the left is in the institutions, it is because they are squatting it with k".
For this reason, he considers that the "force of the vote" is the element that allows changing the lives of people "who do not have assets, media and large capital." "That is why we say that how is it possible that with the sweat and blood that it has cost us to earn it, there are people who can afford not to exercise it, who may think that others decide for them. If others decide for us, the energy companies, the banks and big capital will decide ", he proclaimed.
Follow all the information of Five days in Facebook, Twitter and Linkedinor in our newsletter Five Day Agenda