Technology has improved the communication capacity of the human being, has allowed him to access new forms of education and has facilitated access to information that was previously unimaginable. Algorithms and artificial intelligence are present in your life through actions as daily as making a bank transfer or making an appointment to renew your identity card. In just a few years, and at breakneck speed, digitization has changed our way of interacting, both with the immediate environment and with public administrations.
A good part of the population today accesses essential services thanks to their use of technological tools, essential in some cases. Today many only we stepped on our bank through a apps digital, we arrange a visit with the doctor using the virtual health card or we send the income statement with a simple click on the mobile phone that we have at hand.
Digitization makes our lives easier. It saves us time, money, resources. The data speaks for itself. In Spain, 96% of its population is an Internet user –either through smartphones or through computers and tablets–, according to data from the National Observatory of Technology and Society (ONTSI). No one is outside of these technological tools, of the new digital applications, of social networks.
It also happens that, sometimes, this technology is not enough to carry out certain actions. Despite the fact that some studies predict that, in the year 2140, machines will retire human beings in practically all jobs, the truth is that there are certain human capacities that will never replace robots. Creativity, teamwork, social contribution, the search for the common good and ingenuity are qualities inherent in the very essence of human beings, who ultimately are in charge of programming the machines.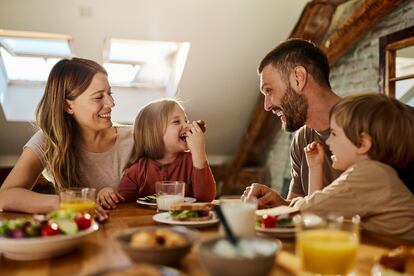 The same is true with empathy and personal communication. These characteristics make it possible to anticipate, understand and create a climate of trust with others. The fact of being able to establish bridges of understanding between the interlocutors is tremendously useful when unforeseen events appear in people's lives. It is in those moments of difficulties when, more than ever, it is necessary to know that you can count on someone's help. It happens, for example, at home. It is there where they spend more hours a day; where the life of families takes place; where the bonds between parents, children, siblings are strengthened; where you work (increasingly, especially as a result of the pandemic) and study.
Home is a space of happiness that can sometimes be the scene of unwanted incidents. For example, half of the accidents suffered by children are domestic: blows, falls, poisoning, burns… Private homes are also one of the preferred targets for thieves. In Spain, 310 daily robberies are perpetrated in flats and houses. The reasons are obvious. The criminals know that everything from jewelry and money to household appliances, computers and valuables are found here, which they will then resell on the second-hand market. With the holidays just around the corner, it's these summer months when you're most likely to be robbed. With uninhabited houses, criminals have it easier.
Insurance represents one of the most effective protection tools against the most unexpected consequences of risks. They are designed to help the customer when they need it most. The thing is, the world of hedging can be confusing. Most of the policies are very complete and have a large number of coverages that must be understood correctly before contracting. For this reason, there is nothing like being able to resort to a professional who spends his time getting to know the real needs of the insured and advising them as best as possible. A good example is the agents who work at the GENERALI insurance company.
Its mission is to respond to any query that arises, whatever it is and at the very moment it appears. They understand the circumstances and unforeseen events that users face and offer solutions tailored to each case. In addition, they use the latest technologies to offer a fast and efficient service, always giving priority to the human factor. They also help to resolve all the doubts of their users, provide them with numerous useful and practical information and explain the steps to follow to act in the event of an unforeseen problem. This human treatment, close and adapted to the individual needs of each person is one of the characteristics of these professionals. An example of these scenarios is the project Stories worth it stand up, a series of content in which GENERALI customers tell about unforeseen events they suffered and how the insurer helped them individually and personalized.
The client decides how to contact his agent. You can talk to him (or her) in person or by a simple phone call, through a WhatsApp message, by email or, if you prefer, you can process all the management via on-linethrough the GENERALI website or its apps. After all, these types of small details are what make the difference between one company and another.