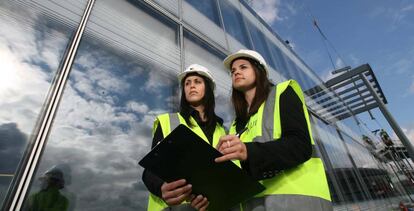 Improving the salary and working conditions of women in search of greater equality could cause an important boost in economic growth. According to the report "Women Hold Up Half The Sky" by Goldman Sachs, halving the wage and employment gap between men and women would cause an increase in GDP of between 5% and 6% in both developed and global economies. in the emerging In the event of a total eradication of labor inequality by sex, economic growth in emerging countries would be boosted by 13% and in the case of developed countries, by 10%.
Despite the progress in egalitarian policies that has been carried out worldwide, there are countries that fail to improve their situation. Today in India there are fewer women working than 15 years ago. And countries like Japan or South Korea, which have experienced a reduction in their wage gap, continue to have larger than average wage differences between men and women. According to the OECD report "Guidelines for Salary Transparency. Application, Monitoring and Reform", South Korea is the country with the largest wage gap in this international cooperation organization. The salary difference between men and women who work full time in the Asian country is 31.1%.
The average wage gap for the 38 OECD countries is 12%, just five percentage points less than in 1997 when most of these states began to publish this type of data. Belgium is the country with the smallest wage gap (1.2%), followed by Colombia and Spain. According to OECD data, Spanish women earn almost 5% less than men. On the other hand, the latest data published by the INE through the Annual Wage Structure Survey indicates that women's wages represent 81.6% of men's. In other words, the wage gap is 18.4%.
Inequality goes beyond wages, we also find fewer women in positions of power. In developed countries, 92% of CEOs are men according to Goldman Sachs data. This figure rises to 94% in the case of emerging economies.
In addition, the emergence of artificial intelligence may cause further damage to female employment. The jobs endangered by new technologies are 60%-70% occupied by women. Although female employment has certain jobs to lean on. Jobs that require more face-to-face interaction, such as those related to care, are led by women and are less likely to be supplanted by artificial intelligence, according to the Goldman Sachs report.
salary transparency
The European Union published a directive last May to promote pay transparency. The objective is that the Member States have a majority of data to contrast and be able to fight in favor of equality between women and men. In 2021, only 21 of the 38 countries that make up the OECD require salary information disaggregated by sex from the private sector, according to the same organization.
Spain is one of these countries and is also part of one of the 10 OECD countries that has audit processes to control the wage inequality suffered by women. Companies provide this information broken down also by type of job, but not by age, seniority, educational level or ethnic origin.
Among the OECD countries that do not request information on salary conditions from private companies we find the United States, the Netherlands, Slovenia, Luxembourg, Germany and Colombia.
In the report "Guidelines for Salary Transparency. Application, Monitoring and Reform", the OECD includes a series of recommended measures for greater salary transparency. Considering audits and getting deeper information, which does not only include the breakdown by sex, are some of the recommended policies.
Follow all the information of Five days in Facebook, Twitter and Linkedinor in our newsletter Five Day Agenda