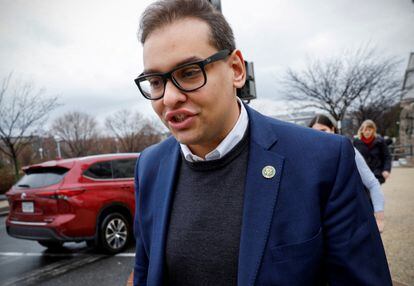 New York Republican Congressman George Santos, famous for the web of falsehoods he concocted to get elected, was arrested Wednesday and charged with thirteen counts, according to the Justice Department.
The thirteen charges have to do with crimes of fraud (seven), money laundering (three), theft of public funds and false testimony (two), according to the official document, which details each of the crimes.
The Department recalls that Santos is innocent until proven guilty, but if that happens, "he faces a maximum sentence of twenty years in prison for the most serious charges."
Santos will appear this afternoon before a federal judge in the district of Central Islip, in the New York county of Suffolk (Long Island) for which he had been elected in the 2022 elections by the Republican Party, which has not yet disavowed him in Washington despite mounting evidence against him.
The Justice Department considers him suspected of "embezzling donations from his supporters, fraudulently obtaining unemployment benefits and lying to the House of Representatives."
United States Attorney Breon Peace, of the Eastern District of New York, pointed out that with this movement he intends to "aggressively eradicate corruption and self-deception from public institutions, as well as hold public officials accountable to the constituencies that elected them."
Peace alluded to (Santos's) "persistent dishonesty and deception to climb the halls of Congress and enrich himself: he used political donations to line his pockets," he said graphically, before recalling that he also benefited from unemployment funds " that should have gone to New Yorkers who lost their jobs in the pandemic."
Shortly after Santos's election last year, the New York Times newspaper was the first to reveal the entire network of falsehoods that adorned his fake resume, relating to his family, his religion, his studies or his hobbies, and himself. Santos even admitted that he had "embellished" some of those details.
But media scrutiny thereafter revealed more directly criminal behavior related to the use of the money, and while the local GOP chapter solemnly distanced itself from Santos, in Washington the party has been far less strict and has not prevented him from remaining in the seat.
The Republican Party has a slim majority in the 222-seat House of Representatives (compared to 213 Democrats), and cannot easily get rid of any of its seats, which perhaps explains the tolerance shown in Washington for Santos, although the facts today could force you to revise your position.
Follow all the information of Five days in Facebook, Twitter and Linkedinor in our newsletter Five Day Agenda