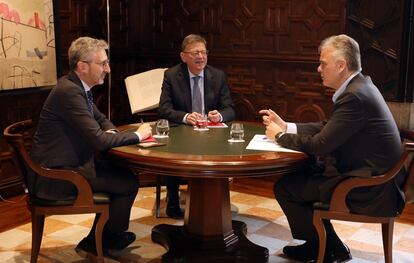 The Generalitat Valenciana will increase the rental bonus for young people by 30 million euros up to a total of 52.8 million, which will be distributed in grants of 250 euros per month for two years with the forecast of reaching 8,900 more young people. And it will also launch aid of between 300 and 600 euros to face the rise in variable mortgages, which will benefit 30,000 Valencian families with annual incomes of up to 33,600 euros. This was agreed upon by President Ximo Puig, the Second Vice President and Minister of Housing, Héctor Illueca, and the Minister of the Treasury, Arcadi España, in a meeting this Thursday to intensify the response to inflation.
The Generalitat contributes 30 million euros of its own resources that will be added to the 22.8 million already provided for the rental bonus for young people, it reports in a statement. With this reinforcement, it plans to reach 8,900 new young people who will benefit from 250 euros a month for two years to pay their rents. The first call for the bonus benefited 4,000 young people for two years, but some 8,000 stayed in line when the program ran out.
Along with this measure, another extraordinary family aid will be promoted that will compensate for the rise in prices of variable mortgages for the habitual residence for an amount of 18 million euros. It will be a direct and unique aid for a mortgage from which families with low and medium incomes will benefit. It will be intended for those who have had their mortgage reviewed as of April 1, 2022 and whose interest has risen by more than 30%. The objective, according to the regional administration, is to compensate the effort of those who dedicate more resources to paying for their home.
The aid will be 600 euros for families with incomes of up to 25,200 euros who dedicate at least 40% to the mortgage; and 300 euros for families with incomes of up to 33,600 euros who dedicate at least 50% to the mortgage. In both cases, the application for aid will begin next May and will last until September, through an online process. The Generalitat calculates that it will reach almost 30,000 families thanks to a public investment of 18 million euros.
This measure will be compatible with a deduction of up to 100 euros to offset the increase in interest, which will be allocated to individual income of up to 30,000 euros and joint income of 47,000 euros and which will be launched in this year's Income campaign.
"We promote useful basic necessity policies: what we have done from the beginning of this situation," Puig said in statements sent to the media. The second vice-president and Minister of Housing, Héctor Illueca, has highlighted that the Consell demonstrates with these measures that they are part of a broader package to alleviate the effects of inflation and "it is on the side of humble people".
What affects the most is what happens closer. To not miss anything, subscribe.
subscribe