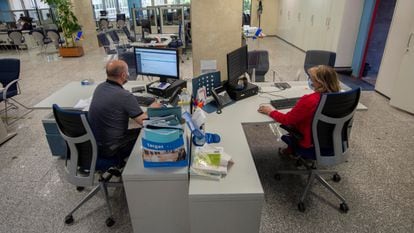 The Government has proposed a public employment offer (OEP) for 2023 of more than 30,000 places for the General State Administration (AGE), 20% more than last year, according to CC OO sources have reported to Efe. In the absence of knowing the final data, it is expected that, with the replacement rates, the offer of public employment could be above 45,000 jobs.
The agreement also includes the call for some 2,000 positions of urgent coverage of the Administrative Body of the Social Security Administration for the maintenance of an adequate provision of public services, authorized for their performance by interim civil servants at the end of 2022, until their inclusion in the first offer of public employment in which their coverage with career civil servants is possible.
The offer, which should have been approved in the first half of the year, will include free entry and internal promotion positions, according to the same sources. The portfolio directed by María Jesús Montero has not yet detailed the specific number of the call or the breakdown by bodies. From the unions they recalled that the ordinary offer of 2022 included 24,600 public jobs: 12,339 free entry and 9,261 internal promotion.
The absence of detail has caused CC OO to sign the agreement extended to the unions at the meeting on Monday, which the UGT and CSIF have signed. The intention of the Government, which has met this morning with the main civil service unions, is to approve the offer in the Council of Ministers tomorrow, Tuesday.
The most representative unions, UGT, CSIF and CCOO, had been demanding an ambitious offer that would allow the strengthening of public services in the General State Administration (AGE) and Justice. CSIF indicated in a statement last week that it would work these days "to specify the figures and adapt them to the needs of our administration" and so that "the offer meets the expectations generated".
As detailed by the UGT, the 2023 public employment offer must allocate at least 30% of the places offered for the free shift to internal promotion. The calls for the selection processes provided for in the public employment offer for 2023 must be published before December 31 of this year, except for justified cause that proves its impossibility. In the event that the state of execution of the opposition phase of calls derived from previous job offers coincides with the previous date, the accumulation of the places pending call will be foreseen, together with those that, where appropriate, are offered in the immediately following financial year.
In addition, exceptionally, and without prejudice to the development of other measures that expedite the selection processes of the public employment offer of free access, in those areas in which it is considered necessary for an adequate provision of the services, interim civil servants or temporary labor personnel may be appointed.
Follow all the information of Five days in Facebook, Twitter and Linkedinor in our newsletter Five Day Agenda