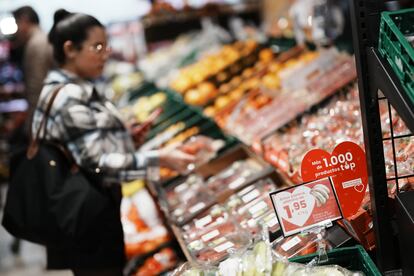 Spanish households placed their savings rate in 2022 at 7.2% of their gross disposable income, which is 6.6 points below that of 2021, as reported this Friday by the National Institute of Statistics (INE). The 2022 rate is the lowest since 2018, when it was 5.6%. The following year, the indicator rebounded to 8.2%, and in 2020, in the first year of the pandemic, it reached the record number in the historical series, with 17.7%, to be cut to 13.8% in 2021.
The data confirms the end of one of the unforeseen consequences caused by the health crisis. Those who managed to get rid of a layoff and continued to get paid on time each month changed their habits due to confinement and the fewer number of consumption opportunities, which prompted the savings rate of Spanish families to reach 14.8 in the first year of the pandemic. % of their disposable income, more than eight points above the previous year.
In 2022, final consumption spending by families rose 11.5% (above inflation, which closed the year at 8.4%) and savings generated by households and non-profit institutions serving of households reached 58,457 million euros.
The press release from the statistical agency highlights that the savings achieved by households were insufficient to finance investment in the sector. Spanish families presented a financing need of 1,753 million euros, which returns the indicator to numbers similar to those of 2018.
Other data
In 2022 as a whole, the Spanish economy generated a financing capacity of 19,744 million euros, 1.5% of GDP for the year. This figure is 2,691 million less than that of 2021 (which was 22,435 million, 1.9% of GDP).
The availability of financing for the economy last year was determined by the combination of a higher balance of foreign exchange of goods and services (18,705 million euros, compared to 17,924 million in 2021) and a higher negative balance of income and current transfers (-10,937 million, compared to -6,399). In addition, the balance of capital transfers increased to 11,976 million euros from 10,910 million in 2021.
In 2022, the aggregate gross national income of the national economy stood at 1,330,768 million euros, 9.7% higher than in 2021. On the one hand, there are increases in the operating surplus of resident productive units (15.4%), in the remuneration received by resident employees (6.5%) and in the amount of taxes earned on production and imports, net of subsidies (4.0%). On the other, the balance of property income with the rest of the world is -1,828 million euros, compared to 545 million the previous year. In addition, the balance of current transfers with the rest of the world was 14.6% lower than in 2021.
Last year, the Public Administrations presented a financing need of 63,776 million euros, compared to 82,946 million in 2021.
Follow all the information of Five days in Facebook, Twitter and Linkedinor in our newsletter Five Day Agenda