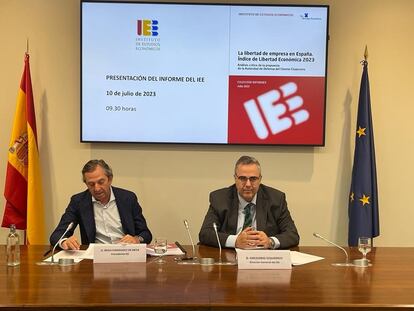 The Institute of Economic Studies (IEE) has presented this Monday the report on business and economic freedom in Spain, prepared by the Heritage Foundation and adapted by the IEE itself, which highlights a decline in Spain's positions in the main indicators. Specifically, it is below the average of the countries that make up the Organization for Cooperation and Development (OECD) in terms of economic freedom and occupies position 35 out of 38, with a score of 91.5 points -the average is 100-. Within the European Union, whose average stands at 95.8, Spain occupies position 22 out of the 27 countries that made up the EU, 4.3 points below the EU average.
The report details that the reason why Spain is placed in such a low position is the high levels of debt and public deficit. The study prepared by the think tank of the CEOE "values ​​the response that each government has in the area of ​​its budgetary programming to intervene in economic activity, as well as its commitment to responsible financial management of resources."
In this sense, according to the study referenced by the IEE, Spain would have less economic freedom than countries such as Croatia or Costa Rica, which has agreed with the International Monetary Fund (IMF) to obtain 1,778 million dollars in exchange for eliminating the primary deficit in 2023 and lowering the debt-to-GDP ratio to 50% in 2035, from the current environment of 58%, according to local media. France or Italy also score worse than Spain, with 89.6 and 87.7, respectively.
In the case of Spain, reflects the IEE, the accumulation of deficits and their reflection in the growing public indebtedness "are consequences of a budgetary policy that interferes, to a great extent, with the principle of economic freedom by disturbing macroeconomic stability and limiting the capacity for future growth".
business freedom
With regard to business freedom, Spain ranks 29 out of the 38 OECD countries, with 75.2 points. This score implies a drop of 7 positions compared to 2012. Considering the OECD average as base 100 to measure business freedom, Spain has a negative gap of 5.6% in relation to the OECD average and is 3.2 percentage points lower than the EU-27 average.
It is also observed that the economies where the freedom of enterprise is higher present, on average, lower unemployment rates, of 6.2%, compared to those countries with lower records in freedom of enterprise whose average unemployment rates are 10.7%.
Follow all the information of Five days in Facebook, Twitter and Linkedinor in our newsletter Five Day Agenda