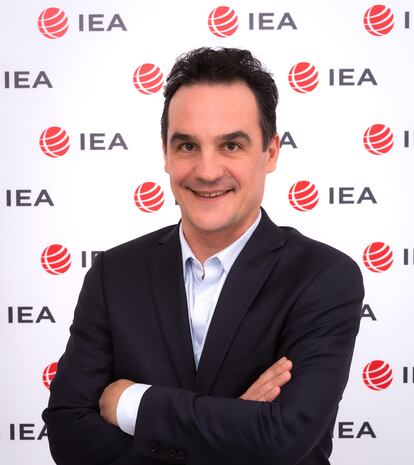 The Progress in International Reading Comprehension Study (PIRLS), published this Tuesday, is the first major international assessment to be released after the pandemic. The test examined 400,000 students from 57 countries between 2021 and early 2022, and there was a lot of interest in learning about the global loss it reflected and its geographical distribution. Thierry Rocher, president since 2018 of the International Association for the Evaluation of Educational Achievement (IEA), the entity made up of official agencies and public and private research centers from more than 60 countries that prepares PIRLS, affirms that the results confirm that there have been an impact "probably" attributable to the covid, and that this has been uneven. But in any case, the coronavirus has not turned out to be the educational Attila horse that some predicted in 2020. At least, he is quick to specify, in terms of reading skills in children of the age analyzed. Rocher answered the questions a few days ago by videoconference from his office in Paris.
Ask. PIRLS shows a decline in reading skills in most countries. It seems obvious that it was due to the covid, but you maintain a point of prudence.
Answer. It's not that easy. We have the previous edition of 2016 and this one of 2021. Between both dates we have had the covid, but countries may also have implemented policies and measures. That being said, it seems a good guess that this global decline, which had not occurred in previous editions, is due to covid. At the same time, we can see that this decline is not as high as we might have expected from listening to certain analysts at the time. If you remember, they were published papers saying that we were going to lose 20 years in educational terms, despite lacking evidence to support it. There is an impact, but it is not as bad as expected. At the IEA we have, on the other hand, a large amount of data and after this first installment we are in the process of doing secondary analysis, and trying to specify, for example, the relationship between the duration of school closures in different countries and the drop in results.
Q. Is it possible that the loss in other types of competitions is greater? There are studies that suggest that, in fields such as mathematics, the school closure, the absence for months of contact in the classroom between students and teachers, could have had more serious consequences. In reading it seems easier for teachers to direct from a distance, or for parents to help their children during confinement.
R. Probably. It's hard to answer with the PIRLS data. From the more general data that I have seen in France, surely age also plays a role. In earlier courses, the story may have been different. If you think of a child in the first grade, it is more difficult for parents to take over teaching reading. In fact, we've seen a bigger impact at those levels than at later ones. On the other hand, the results may also have been influenced by the fact that during the school closure the teachers decided to emphasize the key competences, and these are reading and mathematics.
Q. What most influences a child's reading ability is the socioeconomic and cultural level of his family. The differences between students of low and high social class reach the average of PIRLS and of many European countries the two school years. What can governments and schools do to alleviate such a gap?
R. Yes, the family environment has a huge impact. Our role in PIRLS is mostly to be observers, to provide information, and I don't think there is one policy recipe that can just be applied everywhere. But from what we know, in many education systems these differences that PIRLS detects in primary tend to increase, so it is best to intervene early, in the first grades. There are several ways to do it that are collected in the scientific literature. A powerful one is to reduce by half, in socially disadvantaged areas, the size of the first and second grade classes, leaving them, for example, at 12 students per classroom. But there are others.
Q. What do you think of the results of Spain?
R. The improvement that Spain had in 2016, of 15 points, was truly significant, I think it is a matter to be investigated. The decrease that has occurred between 2016 and 2021 is also significant, although smaller, especially if you compare it with the falls in other European countries, and follows the global trend probably due to the covid crisis. Spain is, at the same time, a more homogeneous country than most, although it still has differences. It is very interesting that there is no distance in the results of boys and girls, when in general there is and it is usually large. Why it happens? Is it related to the level of confidence in reading, by the degree to which they like to read? They are good questions to ask.
Q. Do the countries with the best results have something in common?
R. It is a really difficult question. Above the classification you can find very different systems. Decentralized and centralized, which give autonomy to educational centers and which do not… It is difficult to find a common point, we do not have a magic recipe to do it well, nor do I think it works to import specific issues from a country. I do think, however, that it is good to analyze what other countries do. See, for example, how they organize their curricula, and that this inspires the specific experts in each country to decide how to do it.
You can follow EL PAÍS EDUCATION in Facebook and Twitteror sign up here to receive our weekly newsletter.
75% discount
Subscribe to continue reading
Read without limits