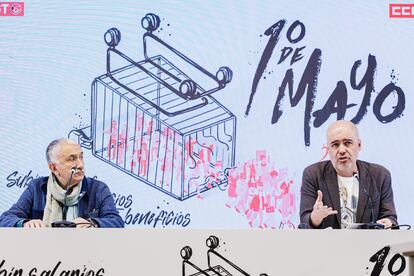 The negotiation between the CC OO and UGT unions and the CEOE-Cepyme employers to reach a V Agreement for Employment and Collective Bargaining (AENC) is not going well. This agreement should include the general guidelines on wages and working conditions for the negotiators of thousands of collective agreements that affect more than ten million employees, however, the talks are once again at a standstill, according to what has been said today by the union leaders of CC OO, Unai Sordo, and of UGT, Pepe Álvarez.
Both have presented today the traditional mobilizations of May Day, Labor Day, in which 73 demonstrations will be held throughout Spain under the motto Raise wages, lower prices and distribute benefits. Although, the main vehicle to achieve these objectives would be precisely to reach an agreement for the AENC and this seems very unlikely at this time.
The talks to reach this agreement, which in principle was going to be for the 2022-2024 period, already failed in the spring of last year and it was not until just before last Easter when the negotiators sat down again to try to save a pact. However, after a first meeting in which they only talked about subjects and calendars, they agreed to resume the meetings after the Easter holidays, something that, according to what Deaf and Álvarez said today, would not be taking place. "There is no in-depth negotiation that allows us to even remotely glimpse an agreement; there is no serious position from the employers" assured the general secretary of CC OO.
Faced with this situation, the two top union leaders in the country were firm and belligerent and issued a new ultimatum to the employers: either an agreement is reached before the summer vacation or this negotiating framework between the tops to order the collective agreements that It has so favored workers and businessmen in its four previous editions "it will be buried forever" said Sordo. Thus, he has insisted that "this negotiation is not going to continue indefinitely: either there is an agreement or there are no more AENC negotiations; We are not going to let a negotiation go on forever and serve as a placebo for the agreements" which, without this pact, will have to be negotiated without any type of guideline in a sort of "every man for himself". In this supposed scenario without AENC, only union negotiators in sectors and companies with greater union roots will be successful, Sordo and Álvarez have explained.
Therefore, if this negotiation finally breaks down, both have warned employers that there will be a significant increase in labor conflict at the tables of thousands of collective agreements. "We are not going to be stretching the gum; patience has run out", said the leader of CC OO. They have not wanted, however, to talk about a general strike for this reason, something for which at this time there would be no breeding ground, with the current job march and the recent signing of an improvement in the pension system, unlike of what happened in France, where benefits to future pensioners have been cut, they have explained.
Therefore, the tension with which they have threatened will take place on the ground of the negotiation of each collective agreement. Although in this field Álvarez has clarified that they do not plan to boycott the agreements either. "If in the end there is no AENC, the ongoing negotiations will not be broken, they will be done in a more disorderly way and without guidelines, but the negotiation of agreements will continue; We are not going to go to a process of provocation of the conflict".
Follow all the information of Five days in Facebook, Twitter and Linkedinor in our newsletter Five Day Agenda