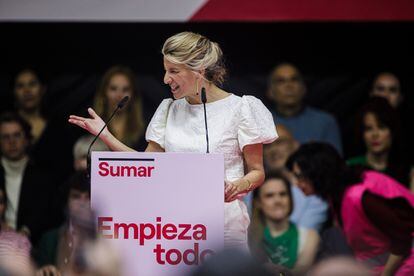 The second vice president of the Government Yolanda Díaz, officially announced yesterday Sunday that she will present herself as a candidate for the Presidency of the Government in the next elections and has guaranteed that she will be "up to the challenge" of responding to the "thirst for change", with a project in which "everyone fits".
"I'm going to take a step forward. I want to be the first president of my country, the first president of Spain", she proclaimed yesterday in Madrid to ensure that she feels "useful" to be able to "win the country, making clear her rejection of politics based on "noise" and claimed that Sumar is a "feminist" force that promotes equality, since women "belong to nobody" and are "tired" of "guardianship" or being "nobody."
"Women belong to nobody. I don't belong to anyone either, "he stressed in a climate of tension with Podemos, which has kept its pulse and has not attended its coming-out, by not signing a prior agreement before. In his harangue, Díaz has affirmed that it is time for women to be the "protagonists" of history and that they will be "unstoppable".
And all this flanked by leaders of more than a dozen left-wing formations, with the notable presence of the mayoress of Barcelona, ​​Ada Colau, the IU coordinator, Alberto Garzón, the leaders of Más Madrid, Mónica García and Rita Maestre; his counterpart in Más País, Íñigo Errejón; the general secretary of the PCE, Enrique Santiago; and the mayor of Valencia, Joan Baldoví (Compromís), among others, to whom he has praised his political career without mentioning Podemos.
For example, the head of Consumption has praised his "generosity" and "knowing where to be", Errejón his "political intelligence", Colau and Ribó his efforts to transform their cities and Mónica García for "defending the dignity" of public health. Some messages that also arrive just two months after the 28M elections are held, where for example Podemos, together with IU, competes electorally with Más Madrid and Compromís.
Follow all the information of Five days in Facebook, Twitter and Linkedinor in our newsletter Five Day Agenda